Hello Cameron DuBois!
Feb 7, 2020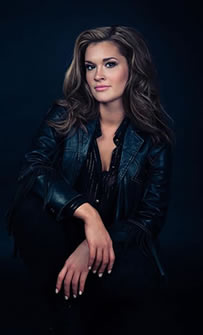 Bama Sound welcomes singer/songwriter Cameron DuBois into the fold! After a time developing her craft in Nashville, this multi-talented indie artist and performer found her groove just up the road from Montgomery in the place that gave birth to legends, Muscle Shoals. Since August 2018, she's been collaborating - and creating the perfect country/rock/soul hybrid sound – at Muscle Shoals' Wishbone Studios (the same studio, coincidentally, where Bill Hinds made his first foray into the Muscle Shoals scene) with two of the industry's top songwriters and producers, Michael Curtis (Randy Travis, Fleetwood Mac, Blake Shelton) and Cindy Walker. Cameron recorded all the demos and tracked vocals there for her series of singles and her debut EP. The instrumental tracks were recorded at Ricky Skaggs' studio in Nashville.
In addition, over the past few years, Cameron has been performing regular local and regional gigs, showcasing a mix of originals and country and R&B covers everywhere from BB King's in Montgomery, The Exchange at the Renaissance Hotel, The Alley, the Double Branch in Troy, AL and several shows in Georgia. She has opened for Luke Combs, sung the national anthem to open the 2016 Toadlick Music Festival in Dothan, AL, and sang a gospel song as the opener for the band Alabama's gospel show, which they put on for their fans in Fort Payne.
We are very excited to be forging a partnership with Cameron as she pursues her solo career, with songwriting, recording, and live performances in duo, trio, and full-band settings on the horizon. Check out her singles, videos, and solo shows at her website and stay tuned!